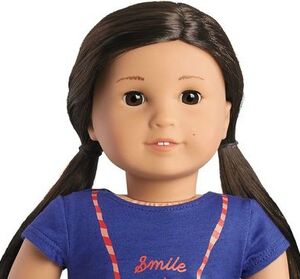 The Z Yang doll was released in 2017. Z was retired in 2018.
Z Doll
Z has a birthmark mole on the left cheek.
Skin: Light
Hair: Dark Brown w/brown highlights, left side part, no bangs, waist length
She comes with her hair styled in two ponytails.
Meet Outfit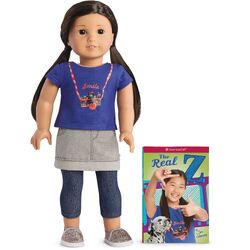 Shirt
Dark blue cap sleeved T-shirt. Front has screen print design: orange/peach strap, stylized camera (black with blue/orange highlights), and "Smile" in orange cursive. Velcros up the back.
Skirt
Grey denim skirt. Top-stitched fly and sealed faux/pockets. Turned hem. American Girl Logo plastic oval on lower left side. Elasticized back of waistband. Pull-on.
Leggings
Blue denim knit leggings.
Shoes
Silver glittery slip-on sneakers. Silver edging at top of front. Back padding and stitching at heel. White soles with ridging on toe and American girl logo imprinted on heel. Textured sole with American Girl logo.
These are identical to the Sparkle Sneakers.
Hairbands
Clear plastic hairbands.
Panties
Z was initially sold with permanent underwear. Later releases had plain pink panties with white elastic.
The children's outfit was available:
See Also
References
↑ While similar to the Z.Crew Tee Shirt, they were sold separately; notably, this shirt has the American Girl oval logo while Z's Camera T-Shirt has a "Z.Crew Logo".