"Suzanne", "Suzie", and "Z" redirect here. For the doll, see Z Yang (doll).

Z Yang is one of the two members of the Contemporary Characters line. She was released in 2017. Z was originally designed for the Z.Crew line and first appeared in those videos online.
In July 2018, American Girl announced that they would archive Z's entire collection; she and her collection were later archived in December 2018. Z's books remain available for purchase.
Personality and Facts
Z is Korean-American[2] and from Seattle, Washington.
She likes to make stopmotion videos with her American Girl Dolls, with the help of her friends Lauren and Mariela. She also wants to direct her own movies someday.
She sometimes has trouble when she doesn't have control of her projects, getting upset when filming is delayed or other people don't appreciate her efforts, and often tries to do everything herself. She works very hard and often tries to include her friends in on projects, though she can sometimes hyperfocus on things to the detriment of everything else.
She uploads her stopmotion videos online after her parents view them, and has thousands of subscribers; however, she didn't realize how popular she was until she was recognized at VidCon 2017 and ended up with a makeshift panel of her own. She is also a part of the Camera Club at school, which reports on School Events.
Z has a good relationship with both of her parents, and usually goes to them for advice. She spends a lot of time with them, including a once-a-month hike that they all take together. She considers Lauren her best friend, and is also friends with the rest of her Z.Crew, which includes her next-door neighbor Mari Ramirez, Gigi and Becka.
Family and Friends
Family
Michelle Yang: Z's Mother
Mr. Yang: Z's Father
Friends and Other Characters
Lauren McClain: Z's Best Friend
Mariela Ramirez: Z's Best Friend
Gigi: Z's Friend
Becka: Z's Friend
Mr. Mullolly: The head of the Camera Club
Andrew: A member of the Camera Club
Maddie: A member of the Camera Club
Books and Media
See: List of Z's Books
Movie
Main article: Z Yang (doll)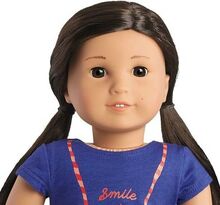 Face Mold: Jess Mold
Skin: Light
Hair: Black-Brown
Eyes: Brown
Collection
See: Z's Collection
Trivia
Z was originally an online-only character as part of the Z.Crew videos, played by Just Like You 64.
Z is the second doll to be marketed as wearing glasses after Molly McIntire; unlike Molly, her glasses are not seen in the majority of the doll's images or mentioned prominently in her books.
See also
References