Yank is Emily Bennett's dog.
In the Books
Yank is given to Emily the same time Molly receives Bennett. He is named "Yank" as this is a term for Americans and is intended to signify the McIntires and Americans who have welcomed Emily. He is a Jack Russell terrier.
In Emily's Collection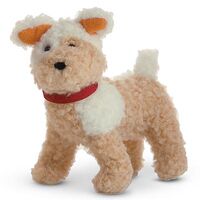 Yank the Dog was introduced to Emily's Collection in 2006 and retired in 2013 with Molly and Emily's archival. Retail cost was $20. He could also be bundled with Bennett the Dog for $32.
Dog
Brown stuffed dog with white spots. The dog is a color swap of Bennett. The collar is plain red ribbon and has a collar tag with the letter "Y".