World by Us is a line of modern, topical characters released by American Girl in 2021.
Overview
The line was inspired both by continued public desire for brand and character diversity and the idea for a line that was more focused on more difficult topics, current events, pressure on companies to improve in the wake of Summer 2020 racial justice protests in the US and worldwide that rose awareness about multiple racial disparities in the US, and current social expectations of social justice and environmental messages. The characters have intertwining, unique stories that focus on current social justice and world improvement issues like racism, immigration, the environment, and creating a better world together. The series is set in Washington, DC, and the characters are approximately thirteen years old. Topics are more intense than Girl of the Year or other books and cover topics such as race, immigration, and climate change; they include messages and information, including reader questions, for how young people can affect change in the world and on current topics.
The line launched September 23, 2021 with three characters---Makena Williams, Evette Peeters, and Maritza Ochoa--and American Girl has stated that more characters have been planned.[1]
World By Us Characters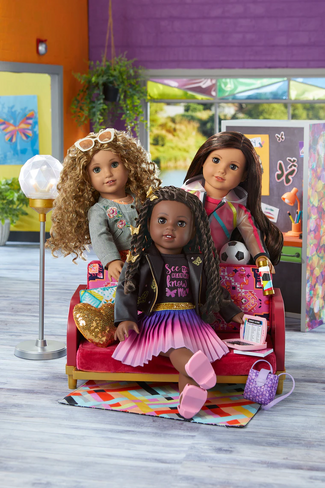 Books
Collections
Advisory Board
The line's advisory board members consist of:
See Also
References