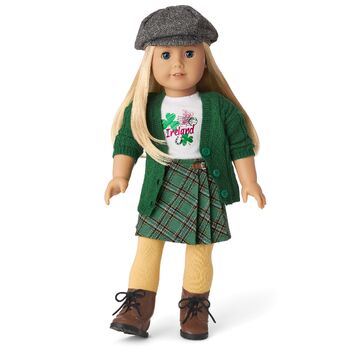 The World Traveler in Ireland is a Truly Me outfit released in 2020. Retail cost is $36. It is part of the World Traveler Collection and frequently paired with the Irish Souvenir Set.
Tee
White jersey knit tee. Front has logo of two green line-streaked shamrocks, black outlined horseshoe, red harp, and black postal stamp (with Dublin Ireland in green) and Ireland in red script font. Velcros on back.
Skirt
Green plaid a-line knee length skirt. Plaid of green background with black, white, and gold stripes, cut on bias. Three pleats on left side with small strip brown leather "belt" and silver buckle. American Girl plastic logo tag on right side of front hem. Center back velcro closure.
Cardigan
Green knit long sleeved cardigan. Pattern design of various cable, line, and diamond knit pattering with knit ribbing on front V neckline, hem, and cuffs. Three functional green four-hole buttons for right-over-left closure.
Tights
Yellow knit tights.
Boots
Brown faux-leather ankle boots. Yellow grosgrain ribbon stripe and loops on center back. Black functional laces. Black plastic soles with hiking boot style pattern.
Hat
Five-panel grey-and-black tweed wool newsboy hat. Cloth covered button on top and white band on inside of hat band.
Booklet
Booklet about various places and activities of interest in Ireland. Includes instructions for making a doll-sized passport.