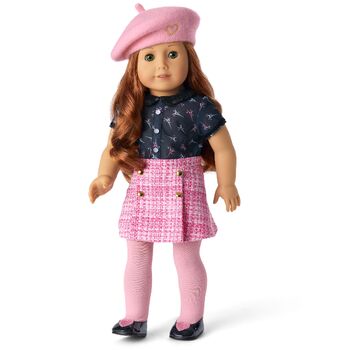 The World Traveler in France is a Truly Me outfit released in 2020. Retail cost is $36. It is part of the World Traveler Collection and frequently paired with the French Souvenir Set.
Blouse
Black print short sleeved blouse. Print is of black background and overall Eiffel Tower with accent hearts in pink and white alternations. Curved collar has black sequin upper and black matte cloth underside; is slightly tacked down. Front placket has three white non-functional shank buttons. Short puff gathered sleeves have velvet ribbon trim at cuffs. Velcro closure at back.
Skirt
Pink and white tweed above-the-knee length A-Line skirt. Attached waistband. Two front pleats accented at top near waistband with two columns of gold shank buttons.
Tights
Pink knit tights.
Shoes
Black glittery shimmer vinyl flats. Pink glitter vinyl hearts on toes. Black textured soles.
Beret
Pink wool-style beret. Gold embroidered heart on left front side with gold embroidered stitching in simulated small knots.
Booklet
Booklet about various places and activities of interest in France. Includes instructions for making a doll-sized passport.
Trivia
The beret in this set is similar to the one in Grace's Welcome Gifts. However, Grace's beret has a black embroidered heart with crossed ends (similar to her personal logo) and pink sequins in the center.
See Also