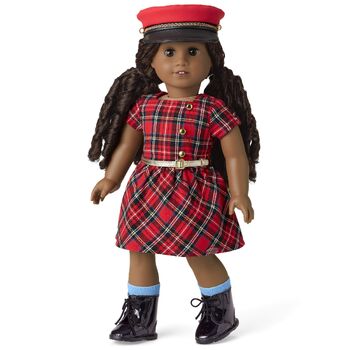 The World Traveler in England is a Truly Me outfit released in 2020. Retail cost is $36. It is part of the World Traveler Collection and frequently paired with the English Souvenir Set.
Dress
Red plaid knee length dress. Plaid is red with black, blue, white, and blue lines; this is intended to resemble Viyella red plaid. Square neckline. Cap sleeves with loop trim on center of sleeve. Off set to left side of bodice are three gold shank buttons. Red top stitching on bodice across near neckline and down left side. Two belt loops on side seams of bodice. Bodice is lined with solid red satin fabric. Skirt is bias cut A-line and has plastic American Girl logo tag on lower left of hem. Velcro closure at back.
Belt
Silver faux leather belt. Gold plastic buckle.
Socks
Blue knit calf length socks.
Boots
Black iridescent calf boots. Pleather of boots has integrated pink and blue glitter. Grosgrain black tab at center back of heel. Black functional laces. Black molded soles.
Cap
Red pleather British flat top fisherman (or fiddler) hat. Red crown with black pleather brim and visor. Brim is trimmer at front with gold braid and gold shank buttons at either end.
Booklet
Booklet about various places and activities of interest in England. Includes instructions for making a doll-sized passport.