The World Traveler Collection is a set of Truly Me modern clothing and various accessory sets focused on world travel and international tourism. The initial components of the collection were released in December 2020 (but are considered part of the early 2021 release), with further components released in 2021.
World Traveler Outfits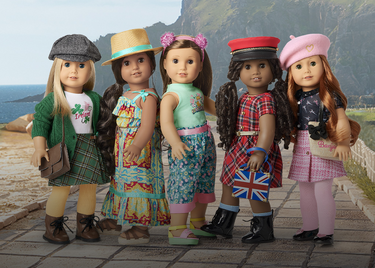 Each World Traveler clothing set consists of one "tourist" outfit and one matching souvenir style accessory set.
The outfits are themed on the presented country and intended to evoke the feeling of clothing styles (but not specifically the cultural style clothing) of the country. The accessory sets include one themed bag, three postcards, one food or treat of the country, and a sheet of stickers based on passport stamps.
Outfits also include a pamphlet that talks about points of interest in the country and how to make a doll sized passport.
Later in 2021, all five outfits and accessories could be purchased together as part of the World Traveler Ultimate Bundle for $266, which is no discount over purchasing separately.
American Girl Air Lines
In 2021 the American Girl Air Lines components were released. This consists of a air-line seat play set with separate cart accessory and two outfits for plane staff: pilot and flight attendant, for play of in-flight travel.
The collection, along with the previously released American Girl Airlines Set, can be purchased in a bundle--the American Girl Air Lines Ultimate Collection--for $422, a savings of $35 over components sold separately.
World Traveler Collection
Outfits:
Souvenir Accessories:
American Girl Air Lines:
Trivia