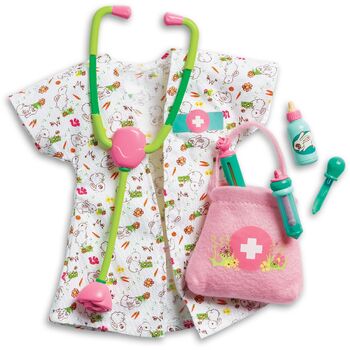 The Woodland Animal Vet Set is a WellieWishers outfit and accessory set released in 2018. Retail cost is $24.
Coat
White short-sleeve lab coat with print of bunnies, flowers, carrots, and the "W" logo. Left side of chest has a teal, pink, and white emblem with a cross in the middle.
Stethoscope
Plastic green and pink stethoscope. Light and dark green alternates along stethoscope. Pink flowers are in the middle and ends of the stethoscope.
Bag
Pink felt bag with printed graphic. Graphic has a pink and white emblem with a cross in the middle surrounded by green, pink, and yellow flowers and grass.
Dropper
Faux teal medicine dropper.
Medicine Bottle
Light teal bottle with pink and beige nipple. Teal, black, and white bunny logo printed on side.
Syringe
Teal syringe with pink top and translucent center.
Thermometer
Teal and pink thermometer that changes color by turning the flower on the end. Handle for doll to hold it.
Community content is available under
CC-BY-SA
unless otherwise noted.