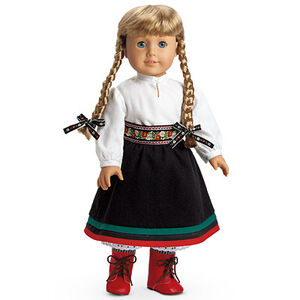 Winter Outfits are outerwear for the Historical Characters. These are frequently associated with the Winter Books.[1] The winter books showed the winter outfits with the first two versions of many of the central series.
While classified as outfits these are mostly outerwear such as cloaks and coats. The only historicals to get winter full outfits (not just coats) are Kirsten Larson and Julie Albright. Kaya'aton'my does not have a specific winter cloak or covering, but does have accessories.
Many of these are retired.
List of Winter Outfits
References