William Merriman is the younger and only brother of Felicity Merriman.
Family
Personality
William doesn't have much characterization as he is a very young child of about two to three years old. He likes playing in the mud and making messes, and has the spontaneous reactions and emotions of a young child. Due to his age he wears dresses as this was the style of the time for children yet to be potty-trained. He speaks in a childish manner as is accurate given his age.
In the Books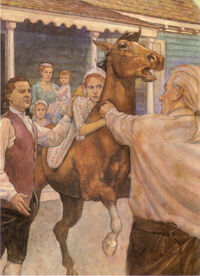 When Felicity is sent on an errand, she is made to take William and Nan along. William keeps playing in the mud with a stick and dropping stones in mud puddles. When they arrive at Mrs. Deare's house, she gives him and Nan a cake and fusses over them. He agrees with Nan about not going to the tannery, but this is probably due to his age and wanting to repeat things. He points out Penny as a horse and is called a brat by Jiggy Nye. When they get home after the confrontation with Jiggy Nye, William gives away at supper that they went by saying "big horse" and "bad man" while waving his spoon around. He calls Penny "Lissie's horse" when Felicity rides up on her.
Illustrations show him still in a long dress, showing that he is not yet in short pants and thus likely not yet toilet trained.
William asks Felicity if Mother will die because of her illness.
William is supposed to help Felicity and Nan wash the chocolate pot, but he uses the stirrer as a drumstick. When Grandfather arrives, William proudly states that he has grown taller. William is illustrated in breeches for the first time.
William picks out a bird bottle for Grandfather's summer present. Nan says this is childish and then William is sad, but Felicity reassures him.
When Father and Marcus go to Grandfather's plantation to settle things out after Grandfather's death, William says, "Will Father leave us like Grandfather did?"
William is impressed with Felicity's fence-walking; his and Nan's clapping alert Mother. William is lifted up to see the footrace and tries to mimic the tumbler somersaults. He does not appreciate the fiddle music and calls it too squeaky. At the treat booth he chooses gingerbread but drops it; Felicity gives him some of her cakes. Mother dusts him off.
When Felicity takes Nan and William to the horse pen, William plays with a stick in a mud puddle. He comes closer to Felicity when the rowdy boys come through.
William is at the breakfast table that morning when it is suggested that the family go to King's Creek for a break before the birth due soon. He cheers when it is agreed to.
On the ride to the plantation, he falls asleep, but is jolted awake when the carriage crashes. He fearfully doesn't leave the carriage until Felicity coaxes him out and then clings to her. When Martha goes into labor and is taken to the other room in the abandoned house, he slips his hand into Felicity's and asks if Mother is having the baby, which inadvertently gets Felicity to refocus. He and Nan both fall asleep before Polly is born.
William appears in the film for a few scenes, but never says anything and at most hands a newspaper clipping to his Grandfather.
Community content is available under
CC-BY-SA
unless otherwise noted.