This article is about the 2015 release. For the 2016 release, see the Valentine Tee Gift Set.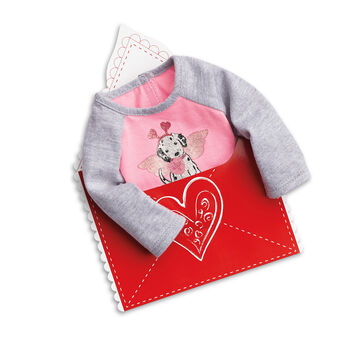 The Valentine Gift Set is a My American Girl outfit/accessory set released in 2015 and retired in 2016. Retail cost was $12.
Tee
Pink and grey cotton baseball tee (pink body with grey collar and sleeves). Center of shirt has glittery cartoon image of the Dalmatian Puppy in the My Furry Valentine Set and American Girl logo under image. American girl logo patch (pink on white) on left side seam. Velcros up the back.
Gift Envelope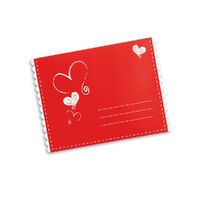 Red cardstock gift envelope. White scalloped edges along sides and flap. Front has a white swirl-decorated heart in right upper corner (stamp area); two heart outlines and a white swirl-decorated heart; three dotted lines for "address" area; and dotted outline. Flap has dotted outline, full American Girl logo in white, and large red swirl-decorated heart at tip. Back of envelope has white dotted outline and large red swirl-decorated heart at center with small slit for tucking envelope closed. White interior lining; visible lining has two red heart outlines, red full American Girl logo, red doted outline, and continuation of scallops inside under heart in red lines to tip. Flap is scored for folding; when envelope is closed by sliding tip into slit, heart over flap lines up with heart on back.
It is not known if this envelope is suitable for use through the mail.
Trivia