Welcome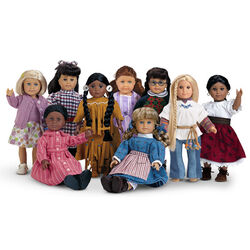 Hi, welcome to American Girl Wiki! Thanks for your edit to the Lea's Rainforest House page. There's a lot to do around here, so I hope you'll stay with us and make many more improvements.
Please sign in every time you edit, so that we can recognise you!
I'm really happy to have you here, and look forward to working with you!
Please leave a message on my talk page if I can help with anything! Nethilia (talk) 23:26, January 23, 2016 (UTC)
Descriptions
Your descriptions are not up to the quality we require here. Take time to look at what we want for a description. --Nethilia (talk) 06:33, January 24, 2016 (UTC)
Stub Label
Stop asking admin to remove stub labels when you are capable of doing so yourself. We don't have the time and energy to fix what you are capable of doing. Nethilia (talk) 04:06, July 15, 2016 (UTC)
Isabelle images
I see you took the Isabelle illustrations from Anna Kmet's website. Not only were the images you uploaded watermarked, Anna Kmet has explicitly stated on her website, "All Illegal usage will be reported for copyright infringement".
While we could argue "fair use", I would suggest you upload scans or screencaps of the illustrations from the physical book/e-book. --AkaiKaze (talk) 04:30, January 18, 2019 (UTC)
Re: Isabelle Images
Duly noted! I should have looked closer at the site. I will attempt to scan the images from my own copy of the book--I had hesitated to do so because a) my scanner isn't the best and b) I was worried about the full-page spread images having a shadow down the center. I do not own the ebook(s) or any quality photo retouching software. Apologies for the inconvenience.
Veralidaine (talk) 03:23, January 20, 2019 (UTC)Veralidaine
Improper Images
This is your first warning. Don't upload images from AG Playthings (I know what their file images look like and the most common "images" for older items) or Google Image searches, and don't upload poor illustrations. If this is done again, a block will be implemented.
Nethilia, Head Admin (talkpage) 16:12, January 31, 2019 (UTC)