Welcome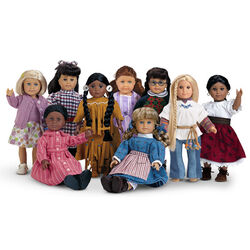 Hi, welcome to American Girl Wiki! Thanks for your edit to the User:Mishellella page. There's a lot to do around here, so I hope you'll stay with us and make many more improvements.
Please sign in every time you edit, so that we can recognise you!
I'm really happy to have you here, and look forward to working with you!
Please leave a message on my talk page if I can help with anything! AkaiKaze (talk) 06:04, July 29, 2016 (UTC)
American Girl Revue
Hi Mishellella,
I would happy to collaborate on the AG Revue page! I'm not sure what sandbox pages are (I'm still new at this), but I think it would be nice to have sections on the Revue Page that list the songs that are performed and the books they correspond to, quick descriptions of them, maybe a synopsis if it can be found (I don't believe there's an official synopsis/plot description and it hasn't been performed for forever), and of course information on the original cast and composers. I would also like to hear what ideas you have! 
As for the songs, are you sure it would be copywright infingement to write the lyrics? I know different companies work different, but there are other wikis that list songs and song lyrics that seem to be fine. If not, that's fine, it just would be nice to know.
Thanks!
Neverland8 (talk) 20:10, May 24, 2017 (UTC)
Hey Mishellella,
Are you still interested in helping make the AG Revue Page?
Neverland8 (talk) 20:36, June 4, 2017 (UTC)
My apologies for not responding for so long! I just started a new school and an intense summer course, so I've been pretty distracted. But, yes, I am still interested in the AG Revue page. I'm just not so sure how to start it / describe it the right way. Like, in the beginning of the article it will say something like:
American Girl Revue is the .......
My writing muse has left me for a while. If you have some ideas about how to set it up, I'll totally contribute. I just don't want to make a page yet until there is something solid to put in, I don't want to risk it being deleted. :(
Mishellella (talk) 15:37, June 8, 2017 (UTC)
I've completed what I think would work for a page on Google Drive; sections include a plot description, song list, character list, list of books included in the musical, trivia and references. I've summarized the known plot and filled the other sections as best I can. Would you like to look it over, or would you just like me to publish it?
Neverland8 (talk) 20:49, September 24, 2017 (UTC)
Neverland8 - That sounds awesome! Go ahead and make the page yourself if you're comfortable with page creation and formatting on Wikia. :)  Then it'll be up for everybody to contribute to it further. I look forward to adding on to it the best I can!
Mishellella (talk) 00:03, September 25, 2017 (UTC)
Hey! I finished the page for the Revue. I might do one for Circle of Friends but that might take a little more time because I don't know the musical as well and I don't think it lasted as long. As a sidenote, are you sure we can't make song pages? I'd be happy to do it if there isn't a problem, and I don't believe that wikias can get copyright infringements, especially if we're just listing lyrics. (ex: Steven Universe wiki, Peanuts wiki, Disney wiki). Has AG Wiki been threatened by copyright before? 
Neverland8 (talk) 13:25, September 30, 2017 (UTC)

Lyrics are a grey area at best from what I can tell. Most if not all wikis use the Creative Commons licence, and since song lyrics are non-free, for legal reasons it would be better to post those off-site and include a link to those on the article. Blakegripling ph (talk) 13:47, September 30, 2017 (UTC)
You did a great job - as far as I'm concerned - with the Revue page. Seriously, I am super impressed! I was also thinking about the Circle of Friends. I was doing some research on it, too. If there's not enough information out there to warrant its own page, perhaps it could be another section of the Revue article? I'm impressed that you did such an in-depth plot overview. 
To my knowledge with copyright, the images we use are covered because we are for education. If we were profitting from using their images, it would be a no-go. I, personally, wouldn't add lyrics to the wiki because the Revue page itself is already filled with info. :) I don't know if the lyrics would add anything really. Mishellella (talk) 17:03, September 30, 2017 (UTC)
I believe that song lyrics would be a nice addition, as they are quite hard to find online. However I don't want to add anything to the wiki that might get it into legal trouble.
Neverland8 (talk) 01:42, October 4, 2017 (UTC)
Pages
Hey, I was just wondering what the policy on creating pages for non-doll characters are? I've noticed that Z's best friends don't have their own pages while Melody's do, etc. Is it a BeForever/Contemporary policy, or is it just "whichever pages aren't stubs"?
Neverland8 (talk) 01:09, October 21, 2017 (UTC)
It's based on a mix of character prominence, book appearances, and past actions on the wiki. Originally, this wiki made a standard article for nearly any character that had a portrait in the Historical Character books, with some small exceptions (one and two-book characters). It felt extraneous to create a separate article for a character that was generally seen in a single, short book when their details would likely be discussed fully on, say, a complete summary page (such as Eddie Ryland's mother). Since contemporary characters and Girls of the Year originally had just one or two books (that were the length of a Central Series one-book volume) and no character portraits, we felt it best to give the GotY "minor characters" articles, and all characters that are not the main character were placed on that article.
Individual character articles for Historical characters has been grandfathered somewhat with BeForever Characters--family members and close friends that feature prominently. However, with the rise of three-books series of notable length such as Grace, this is something we can tweak.
So here's the sitch. If you feel that a character has both enough data and prominence in a current series to justify having their own article, test it using the formats given for the Historical friends. Characters before Grace probably won't have enough data to matter, given the slim volumes. And it's just not enough data to give them a single page, the data can always be refolded back into the minor pages. I haven't had a chance to read Z's books yet (though I have the first) but having read Gabby's first, I can see how this would be a change we need.
If you have further questions, always feel free to ask on the Admin pages as well!
Thanks for letting me know! I might start by making a page for Mariela, since she's appeared in the Z.Crew videos and thus has an image.
Also, I can't edit Nanea's article, I think it's admin-locked? A girl named Nicole Laeno has said she's the voice of Nanea in the Z.Crew video (you can see her in the comments), and that might be interesting for the Trivia Section.
Neverland8 (talk) 23:42, October 21, 2017 (UTC)
Firstly, I wanted to say that I'm super flattered that you came to me for advice, and I apologize that I hadn't been checking up in the last few days. I'm not an Admin, so I don't know all the things, especially when it comes to the newer types of things we haven't really tackled here yet as the brand evolves. That said, I have created quite a few pages but I've never made a character page, so definitely refer to Nethilia's comments. If I am remembering correctly I have only made pages for an accessory set, authors and illustrators, and some of the more obscure, less popular books like advice ones etc.
As usual my recommendation is that before you create a page, have the writing done or mostly done. Then if there's anything that needs to be changed, others are usually glad to chip in. It's only poorly written pages are such a mess nobody really wants to touch those if they don't have to.
I don't have the option to edit the Nanea Mitchell page either. But that is an interesting piece of trivia. Just hang on to that tid-bit for a while.
Mishellella (talk) 23:25, October 22, 2017 (UTC)
The page Nanea Mitchell is still locked. All I can find in regard to the voicing is that it is advertised on Nicole Laeno's official Instagram account, and that the comment on the YouTube video is from her official YouTube account. (She is a legit child actress/dancer, sorta? She's with that whole Maddie Ziegler thing...) However, it is not listed anywhere else beside her own social media accounts; it is not even posted on her main website. I think it is reasonable to believe she's telling the truth, and I don't have the time at the moment to attempt to compare voices, but there doesn't seem to be any way to crossreference this. Mishellella (talk) 12:09, October 26, 2017 (UTC)