Hi, welcome to American Girl Dolls Wiki! Thanks for your edit to the Kirsten Larson page.
Please leave a message on my talk page if I can help with anything! -- Nethilia (Talk) 12:29, 11 May 2009
Article Creation
Right now, rather than focusing on Article Creation for outfits, could you please improve and categorize outfits and accessories that have articles? This will be more helpful right now. --Nethilia 23:57, 17 May 2009 (UTC)
Sure Nethilia! I'll finish up the last article I made and start on the other articles. Thanks! =) Mermaidgirl45 23:59, 17 May 2009 (UTC)
Picture Uploads
When uploading pictures for historical items, please name the file starting with a variation on the character's name. Even though some things are specifically unique, it does help with organization. Look at prior files for clarification. --Nethilia 23:10, 10 June 2009 (UTC)
Okay, I will. Thanks, Nethilia! Mermaidgirl45 01:27, 13 June 2009 (UTC)
Proper Names for Outfits
While American Girl did name the outfits after the Characters later on, I do not feel that these are the best names for items. I can set up the redirects to the revised names, but I feel that the original names are more accurate descriptions and should be used. I will be correcting changes that don't reflect this. --Nethilia 00:10, 14 June 2009 (UTC)
Oh. Well, okay. Sorry - I've only known about American Girl for a few years now, so I was unaware that the other names were originally the names. I've actually made quite a few pages recently, so, I'm sorry. I should have just used the older names. How do you change the titles of pages? And, how do you do redirects? Because, I'm having a hard time with those... I'm not sure why... Anyway, sorry I named all these pages wrong. I will most definitley use the past names now. The thing is, um, I'm not quite sure what they were for all the outfits. I'd have to consult you on some. Sorry! =) Mermaidgirl45 00:19, 14 June 2009 (UTC)

Don't feel bad! It's easy to get names wrong--AG changes stuff all the time. I've been into AG since the earliest days, so I know these things. As for the original titles of outfits--I've gotten them all on the lists, I believe. I know how to do redirects--basically, you use #REDIRECT [[Title of Article]] on the page to point to the page you want it to go to. You can see this if you look at the redirects for the characters--"Addy" redirects to Addy's full name. If you're worried about anything you've misnamed, I go through and do redirects when I see them--pages can be moved and retitled by Admins. --Nethilia 00:50, 14 June 2009 (UTC)

Oh, Nethilia! Thank you! You are so amazing. You did get all the pages, and thanks for the redirect tip. I tried, yet I couldn't figure what I was doing. Anyway, thanks so much. I love this wikia - And, it's really thorough. My little brother said even his elaborate, detailed wikia didn't do chapter-by-chapter summaries, and pages on illustrators. He's very impressed. =) Thanks for starting it up, and working so hard on it! Mermaidgirl45 02:05, 14 June 2009 (UTC)
Thank you!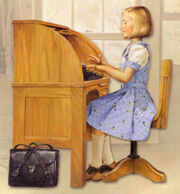 I would just like to compliment you on your great work on the Wiki recently! You've done a lot of categories, articles, and uploading of pictures and are a big help! Keep up the good work! --Nethilia 21:12, 15 June 2009 (UTC)
Nethilia, thanks so much! I love the Wiki and am very glad that I am helping the site. I'm afraid my library books were due, so I wasn't totally able to finish Cecile's and Isabel's page, but I'm trying. If there is anything you want me to do, just let me know! Thanks for all of your work on this, too - You've done more than I think I ever could. =) Mermaidgirl45 21:16, 15 June 2009 (UTC)
Dress Like Your Doll Outfits
I've noticed that you've been listing outfits as Dress Like your Doll first and Just Like You second. They should be listed first as Just Like you outfits, as that's the line they are part of. Also, don't separate the articles into what's for dolls vs what's for girls. The Dress Like your Doll outfits is more like a footnote to the dolls outfit, and only the actual clothing images for the girls should be labeled as such. Look at my changes to the Photography Outfit for an idea of what I mean. --Nethilia 20:19, 30 June 2009 (UTC)
Okay, sure! Thanks for pointing that out to me! Also, on the front page, should we list all the new items like we did for Rebecca's Collection when it came out? Thanks so much! =) Mermaidgirl45 20:27, 30 June 2009 (UTC)

I'll do that later. Only Admin can edit the front page because we had vandalizing on the front page. --Nethilia 20:34, 30 June 2009 (UTC)

Sure, that's great. I'm sorry about the vandalism. I really hope that they'll stop soon... Anyway, if you see anything that needs correcting, or think of anything I can do to help, just let me know! Thank you! Mermaidgirl45 20:40, 30 June 2009 (UTC)
Asking for Help on Talk Pages
I've noticed you asking for help on the wiki pages for stuff you don't know about. It's a good effort, but you don't have to do it! As people join, they'll go in and add what they know. Okay? --Nethilia 02:53, 20 July 2009 (UTC)
Sure - sounds good. I just don't want to create an article with minimum effort, but I understand that the article would have to be created anyway. Anyway, thanks so much fot telling me! =) Ariel - Mermaidgirl45 16:58, 20 July 2009 (UTC)
Stop Classifying the Top Product Lines.
At least three times I've gone and removed the category "Miscellaneous Product Lines" from the top product lines. You've added them each time. This is completely erroneous classification. The category "Miscellaneous product lines" is ONLY for product lines that aren't the top lines--Historicals, JLY, Bitty Baby/Bitty Twins, and Girls of the Year. It even says on the category: "Miscellaneous product lines that are not Historical Characters, Just Like You, Girls of the Year, Bitty Baby, Bitty Twins, or the Coconut-style pets."
Don't add them again. This is your first warning. --Nethilia 05:33, 9 August 2009 (UTC)