Welcome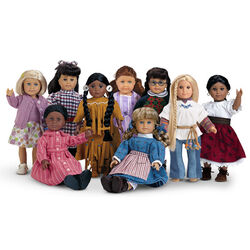 Hi, welcome to American Girl Wiki! Thanks for your edit to the Isabelle Dances into the Spotlight page. There's a lot to do around here, so I hope you'll stay with us and make many more improvements.
Please sign in every time you edit, so that we can recognise you!
I'm really happy to have you here, and look forward to working with you!
Please leave a message on my talk page if I can help with anything! AkaiKaze (talk) 20:15, March 6, 2014 (UTC)
Article Categories
Please make sure in the future that articles and images you create/upload have been categorized. I've gone back and done most of the ones without, but please add them in from now on. Thanks. Nethilia (talk) 05:15, July 30, 2016 (UTC)
Permabanned
You were given many chances to learn from your mistakes and your previous bans. And somehow, you didn't learn from them. That takes some serious dedication.
If you are not willing to learn from your previous bans on what this wiki expects in terms of quality contributions, you might as well enjoy the permanent vacation from the wiki you earned. --AkaiKaze (talk) 13:50, February 16, 2017 (UTC)
Community content is available under
CC-BY-SA
unless otherwise noted.