Nethilia is the founder, bureaucrat, and one of the admins of the American Girl Wiki.
If you need to talk to me directly, you may either edit my talk page or e-mail me (nethilia at gmail dot com; please title your e-mail as "American Girl Dolls Wiki" or else it may get lost in my inbox). Please make sure your e-mails are about the wiki; I'm not much on casual discussion outside of forums if I don't know you from a can of paint. Mind your manners around grown folk.
Bio
The AGGiRL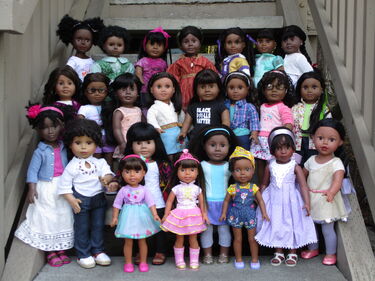 The American Girl Gang in Residential Location is Neth's massive gang of American Girl dolls. She calls them a gang because they are, with the exception of some older/younger sister sets, in no way related to each other. She personally finds it disturbing to force family relationships between divergent times and unique dolls; friendship is good enough, and magical besides.
(A few others from other brands aren't listed, simply because she needs to sort things for them before they debut.)
In order of arrival:
18" Members
Addy Walker, the First Arrival
Amber "Otters" Flynn (MyAG #26)
Elizabeth "Beth" Cady (Gotz Limited Edition based on Elizabeth Cady Stanton)
Magnolia "Maggie" Vincent (TM#47)
Alice Lenore Montrésor (TM#13)
A Girl For All Time Bex
Gisèle Moreau du Bois (TM#80)
Holly Joyner (TM#67)
the kid sisters of moddies and one Historical
Webspace and Links
Community content is available under
CC-BY-SA
unless otherwise noted.