Nethilia is the founder, bureaucrat, and one of the admins of the American Girl Wiki.
If you need to talk to me directly, you may edit my talk page or e-mail me (please title your e-mail as "American Girl Dolls Wiki" or else it may get lost in my inbox). Please make sure your e-mails are about the wiki; I'm not much on casual discussion outside of forums if I don't know you from a can of paint. Mind your manners around grown folk.
Bio
Age: Forty-ish
Location: Pacific Northwest
Hobbies: Quite a few
Fan Sites and Forums: Personal AG blog at American Girl Outsider. Mod/founder of American Girl Collectors
Discovered American Girl: as a child reading Doll Reader magazines back in the 1980s.
The AGGiRL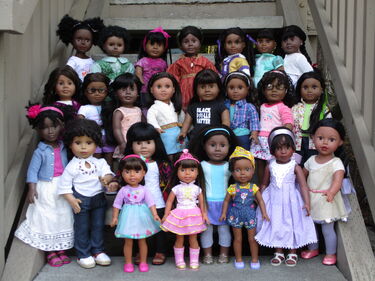 The American Girl Gang in Residential Location is Neth's massive gang of American Girl dolls. She calls them a gang because they are, with the exception of some older/younger sister sets, in no way related to each other. She personally finds it disturbing to force family relationships between divergent times and unique dolls; friendship is good enough, and magical besides.
A few others from other brands aren't listed, simply because she needs to sort things for them before they debut. Furthermore, I don't always swiftly update this list, as I'm too busy working on the main project.
In order of arrival:
18" Members
Addy Walker, the First Arrival
Amber "Otters" Flynn (MyAG #26)
Elizabeth "Beth" Cady (Gotz Limited Edition based on Elizabeth Cady Stanton)
Magnolia "Maggie" Vincent (TM#47)
Alice Lenore Montrésor (TM#13)
A Girl For All Time Bex
Gisèle Moreau du Bois (TM#80)
Holly Joyner (TM#67)
the kid sisters of moddies and one Historical
Webspace and Links