"BRINGEN SIE MIR MERRIMAN!"
Blake Gripling (born 11 July 1990) is a Filipino smartphone enthusiast, video game modder, and parodist. He's been into the American Girl scene for more than five years, with a small doll collection and a few other trinkets and so on such as a (locally-pressed) DVD copy of the Kit movie, a rooted AG Nabi tablet and a copy of Kit's Mystery Challenge. His edits here are mostly maintenance/cleanup stuff, such as removal of junk content and minor article enhancements. He does post useful information about the series from time to time, though.
His favourite doll is Kit Kittredge, although he also likes Samantha Parkington and Felicity Merriman, going so far as to making rather bizarre and funny Downfall parodies involving the said characters.
Dolls owned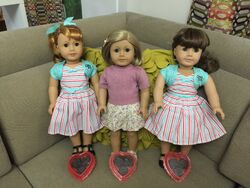 Non-AG dolls: Two Sandy Dolls (firefighter and rescue worker; given as commemorative gifts to my dad and brother as part of an event at City Hall), Hasbro Frozen Anna and Singing Elsa.