The Urban Outfit was the fourth meet outfit in the American Girl of Today line. It replaced the Red Vinyl Jumper Outfit in 2000 and was later replaced by the Go Anywhere Outfit in 2002.
Outfit
The outfit was available for purchase separately from the Just Like You dolls for $24.
Top
Grey, red, and blue striped hooded tee-shirt. Three non functional buttons. Snaps down the front under buttons and pulls over the head.
Vest
Reversible quilted vest. Blue on one side, red on the other. Functional zipper.
Skirt
Ankle-length steel blue cargo skirt. Two functional front pockets with flaps; left pocket has red tag with American Girl logo. Functional zipper and velcro on back waist.
Socks
Grey socks.
Shoes
Blue velvet mary janes with chunky black soles. Velcro closure. The shoes can occasionally peel and are also prone to staining dolls' feet when worn without the socks.
Panties
Plain white underpants.
Accessories
The Urban Accessories were available for purchase separately for $20 or bundled with the doll for a discounted price.
Watch
Wristwatch with velcro-closing band.
Magazine
Miniature American Girl magazine.
Purse
Nylon olive green purse. Cross-chest strap. Embroidered red "American Girl" and yellow star. Functional zipper.
Keychain
Flower and dogtag keychain on silver metal clip.
Hair Sticks
Two hair sticks. Blue and red beads at the ends.
Dollars
Three miniature $1 notes.
Library Card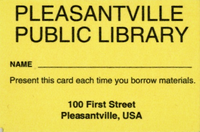 Yellow paper library card. Measures 1 x 1.5". Text:
Pleasantville Public Library
Name: ______________________
Present this card each time you borrow materials.
100 First Street
Pleasantville, USA
Carried from Mix and Match Accessories.
The children's outfit was available:
Hooded Shirt: $25
Long Cargo Skirt: $30
Quilted Vest: $38
Urban Purse: $10