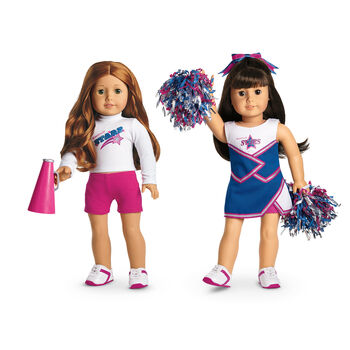 The Two-in-One Cheer Gear is a My American Girl outfit released in 2014 and retired in 2017. Retail cost was $48.
Dress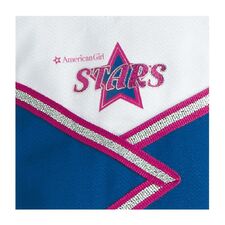 Sleeveless blue/white cotton cheer dress. Bodice top section is white with chest logo: American Girl logo to right, with STARS in magenta glittery italic capital letters outlined in silver superimposed over blue star with magenta/silver outline. Dress is trimmed with magenta/silver ribbon (silver centered over magenta) to resemble top and skirt; left side of skirt panel is white and there is a skirt slit on left side. Back of dress is solid blue with ribbon trim only at bottom hem. Velcros up center back.
Top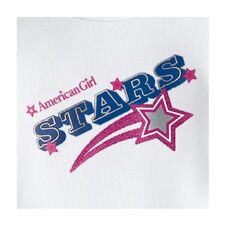 White knit long-sleeved turtleneck practice shirt. Front has chest logo at an angle (lower right to upper left): American Girl logo, then STARS in blue block letters with silver outline with blue drop shadow; three magenta/white stars; silver shooting star with magenta/white outline and magenta/white tail.
Shorts
Thigh length knit magenta pink biking shorts/cheer trunks. Elastic waistband.
Sneakers
White sneakers. Pink stripe decor on sides and back heel. Elastic laces. Magenta ribbed sole.
Hair Ribbon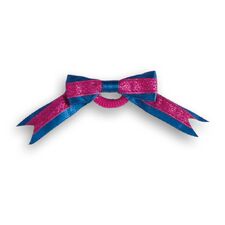 Magenta and blue satin/glitter ribbon hair bow. V-cut ends. Attached magenta ponytail holder.
Pompoms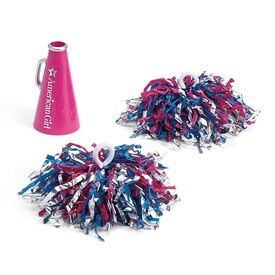 Two silver, blue, and magenta plastic string pompoms. Bundles are tied in center with silver wire attached to white button and White ponytail holder-style handles.
Megaphone
Magenta plastic megaphone. Silver paint trim over mouthpiece and handle. American Girl Logo in silver on right side.
Star Face Stickers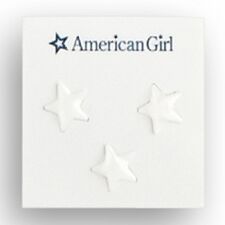 Three clear star stickers (advertised as face stickers). Initially on white backing paper.
Glitter Accessory Stickers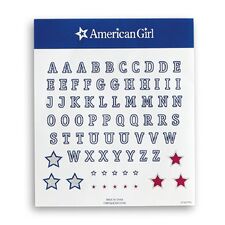 Sheet of accessory stickers. Contains: Silver glitter block alphabet stickers (with doubles of each consonant and triples of each vowel) outlined in blue; three large silver stars outlined in blue; large three magenta stars outlined in magenta; five small silver stars outlined in blue; and five small silver stickers outlined in magenta.
Charm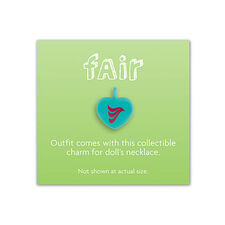 Heart "Fair" charm.
See Also