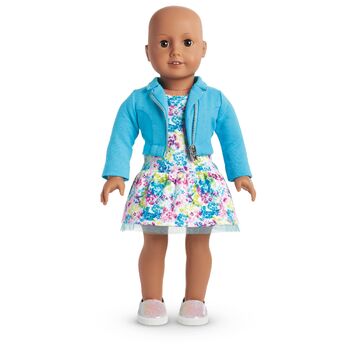 The Truly Me Outfit[1], later called the Truly Me Dress and Jacket Set., is the twelfth meet outfit for the Truly Me dolls, replacing the Lilac Dress in 2017 and replaced by the Sparkle and Shine Outfit in 2020.
The male complement is the Truly Me Boy's Outfit.
Outfit
This outfit was not available as a separate purchase during the life of its time as a meet outfit. It was later sold (minus panties) with a retail value of $24 (discounted down to $16).
Dress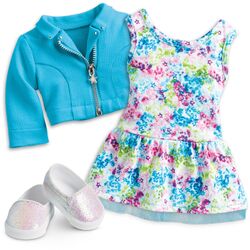 Sleeveless knit multicolored dress. Boat style neckline. Print is white background with blue, green, purple, and magenta splotches and scattered logo star). Bias trim around neckline and armholes. Slight drop waist. Blue top stitching. Blue tulle trim at skirt hem. American Girl logo tag on left bottom front of skirt. Velcro closure along back.
Jacket
Bright blue knit cloth long sleeved jacket. Princess seams at front. Collar and tacked lapels trimmed with decorative silver studs. Silver functional zipper closure with star-shaped pull.
Shoes
White vinyl molded shoes (in similar shape to the Sparkle Sneakers). Multicolored glitter on top part of shoe.
Panties
Light pink panties with silver trim. (Dolls who had perma-panties did not have panties.)
Book
Starting in late 2019, dolls came with a copy of Friends: Making Them and Keeping Them.
Accessories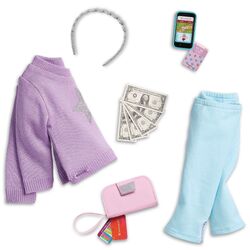 The accessories were available for purchase separately for $30 or bundled with the doll for a discounted price.
Sweater
Light purple knit sweater. Silver sparkle AG star on front. Velcro closure. American Girl logo tag on lower front right hem.
Leggings
Light blue capri length leggings. Purple embroidery trim at bottom hems. Elastic waistband.
Headband
Silver glitter zig-zag molded plastic headband.
Wristlet
Light pink texture-vinyl wristlet purse. Three inner pockets on left side (one full length, two smaller.) Closure flap with silver glitter decoration. Velcro closure. Pink elastic ribbon strap at top center.
Smartphone
Black molded plastic smartphone. Clear front panel. Back opens to insert screens.
Smartphone Screens
Two dual-sided laminated cardstock smartphone screens. Screens overall simulate the Apple iOS 7 systems.
First pair:

Pink-toned lock screen: 11:30 Saturday and patterned background, signal strength and battery at top and Unlock > at bottom
Grey incoming call screen: signal strength, 4:30 and battery at top; Mom and call length of 1:20; Mute, Keypad, and Speaker logos; call in process symbol in red
Second Pair:

Weather screen: Blue background. Displaying Current weather of 75° and partially sunny with five day forecast for Sunday through Thursday
American Girl mobile site: Logo at top, Home and Games at top menu; Play Games over mobile game; Take a Quizover image of girl on white background.
Phone Case
Turquoise plastic phone case. Back loop handle on back.
Library Card
Cardstock public library card. Front has A*G Public Library and multicolored books. Blue back has bar code and white space for name.
Gift Card
Red cardstock American Girl gift card.
Dollars
Five paperstock one dollar ($1) bills. (Only printed on one side.)
The child-sized outfit was available:
References
↑

This outfit was not given an official name at release; its name on this wiki is derived from the Truly Me Accessories it is paired with. Later when sold separately, it was named.