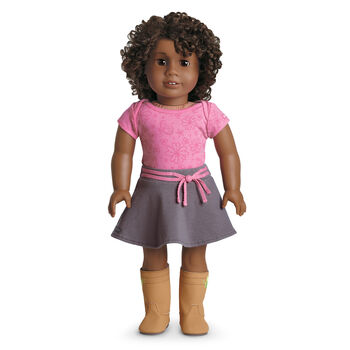 The True Spirit Outfit was the tenth meet outfit for the My American Girl dolls, replacing the Real Me Outfit in 2012 and replaced by the Lilac Dress in 2015.
True Spirit Outfit
As the outfit was tied to Innerstar University, it was never made available as a separate outfit during its lifespan as a meet outfit.
Tee

Light pink graphic cap-sleeved T-shirt. Ribbed collar. Flower, butterfly, and heart overall print in darker pink. Pink American Girl logo patch on left sleeve. Velcros up the back.
Skirt
Dark grey flared pull on skirt. Faux pink double-ribbon belt in front. Elastic back of waist. Gray American Girl logo patch on right hem.
Panties
Light pink panties.
Boots

Knee-high tan boots. Matching top stitching. Green butterfly embroidered design near top outer. Velcro up the back.
Necklace
Booklet
Booklet containing two codes to use to activate Innerstar University subscription.
Accessories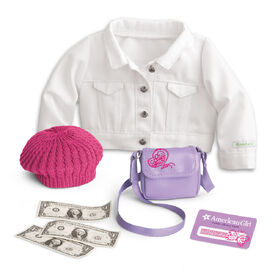 The coordinating accessories were sold separately for $28. They were not included as a package deal with the doll.
Jacket
White button-up denim jacket. Silver star logo buttons. White (green text) American Girl logo patch on left sleeve near cuff.
Beret
Dark pink knit beret.
Purse
Purple faux-leather purse. Pink embroidered butterfly logo. Purple ribbon strap. Velcro closure.
Money
Three pretend $1 bills.
Library Card
Pretend American Girl library card.
The children's outfit was available; the skirt was modified into a skort.
Tee: $24
Skort: $36
Hat: $14