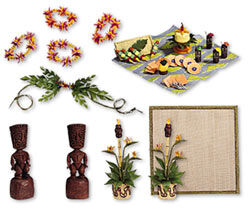 The Tiki Party Set was an American Girl Minis accessory. It was released in 2002(?) and retired in 2003 with the rest of the line. Retail cost was $40.
Tiki Mat
Beige woven mat with green trim.
Flower Garland
Green palm leaf garland with red flowers in center. Green cord to hang garland.
Bird-of-Paradise Plants
Two orange bird-of-paradise plants in pots. Pots are a beige faux woven pattern with a brown decorative pattern on the sides.
Tiki Torches
Two tiki torches that stand in the plants. Torches have cords and can light up with outlets.
Tiki Statues
Two dark brown wooden tiki statues.
Tablecloth
Gray tablecloth with green palm leaf pattern. Tablecloth is smaller than tiki mat.
Napkin Holder
Pineapple-shaped napkin holder. Holder has green and yellow paint for pineapple with alternating dark and light brown base.
Napkins
Four light orange napkins. Napkins can fit in holder.
Cake and Stand
Yellow frosted cake with red flower decoration in center. Orange icing around flower decoration and base of cake. Cake sits on decorative bed of green palm leaves. Cake is on orange stand.
Fruit Kabobs
Four fruit kabobs with orange, green, yellow, and pink faux fruit on them.
Platter
Beige faux woven platter with green palm leaf printed on it.
Mugs
Four brown mugs with tiki faces and pink straws. Each also has an umbrella in green, red, orange, and yellow.
Plates
Four plates. Plates are coral with a purple flower in the center. Rim of plate has white triangle pattern around it.
Forks
Two silver forks.
Spoons
Two silver spoons.
Leis
Four leis. Two are red and orange and two are purple and orange.
Trivia