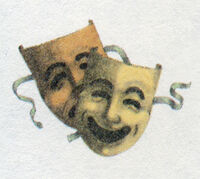 Theater Kits were, as described, kits for performing a play for each Historical Character of the time.
These were one of the four activities included in the American Girls Pastimes sets.
Overview
A Theater Kit had the scripts and directions for putting on a roughly twenty-minute play consisting of about four to five acts, focusing on the plot of one book in a Historical Character Central Series.
Each play had no more than six characters--including the main Historical character--and was arranged so that it could be performed by as few as four people.
The kits came in envelopes. Each included four play scripts and a Director's Guide. The scripts had, on the back cover, tips for the actors on how to give good performances, and a few pages sometimes for notes. The director's guide offered tips on how to plan the play, characters in the play (and how to have two characters played by one person), using Stage hands, how to lay out the stage set, design costumes, use prop, simulating sound effects, and occasionally information on how to make certain props. On the back cover were a ticket and program that could be copied. The Director's Guide also included historical facts and trivia about live performances of the era.
For legal reasons, all theater kits include text that states the plays can be performed without royalties by young people at home, schools and nonprofit organizations (provided that the latter two will not charge admission). Any other performance rights are strictly reserved and any inquiries for rights should be addressed to the Book Editor at American Girl.
American Girls Theater Kit
See also American Girls Theater Kit
The first American Girl Theater Kit included Kirsten Larson, Samantha Parkington, and Molly McIntire. The kit, part of the Portfolios of Pastimes collection, included four script books for all three plays and a Director's Guide. Every play focused on the plot of the character's meet book.
The set was discontinued in 1994 as by then sets for other Historical Characters had been released.
Individual Theater Kits
When the American Girls Pastimes sets were released after the release of Addy Walker, individual Theater Kits were included. The kits also included Paper Dolls, Craft Books, and Cookbooks.
The Theater Kits were now color coordinated and included four scripts, a director's guide, and a playbill poster to advertise the play.
Theater kits were discontinued around the release of Kit Kittredge, possibly because she was not going to receive a craft book, cookbook, or theater kit.
Play: Tea for Felicity (Felicity Learns a Lesson)
Play: Josefina's Gift (Happy Birthday, Josefina!)
Play: Home Is Where the Heart Is (Meet Kirsten)
Play: Friendship and Freedom (Addy Learns a Lesson)
Play: Actions Speak Louder Than Words (Meet Samantha)
Play: War on the Home Front (Meet Molly)
See Also
Community content is available under
CC-BY-SA
unless otherwise noted.