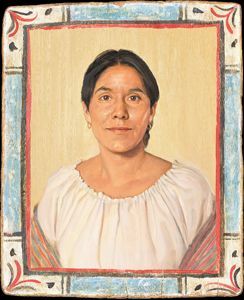 Teresita is Dolores Romero's servant and part of Josefina Montoya's household.
Basic Facts
Personality and Facts
When Teresita was a little girl she lived with her people, the Navajo. Her mother taught her to weave cloth. This was a skill she never lost. She was captured by enemies of the Navajo when she was about nine years old and taken away from her family, never to see any of them again.
Before Teresita went to Josefina's rancho, she was a servant for Maria Herrera in Santa Fe.
In The Books
She teaches Josefina how to weave.
Community content is available under
CC-BY-SA
unless otherwise noted.