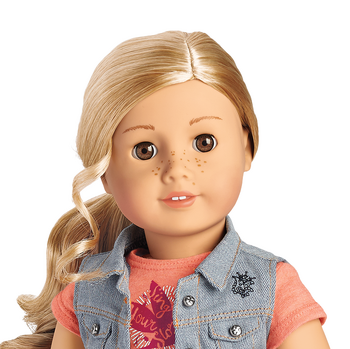 The Tenney Grant doll was released in 2017. Tenney was retired in 2018.
Tenney Doll
There are freckles across the cheek and nose as well as one to the left side above her mouth.
Hair: Blonde, long curls, left-sided part, no bangs
The doll comes with one ringlet loose and the rest pulled back in a ponytail.
Hand Modification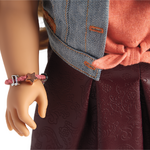 The doll has a modified right hand, a feature shared only with the Logan Everett doll that allows the dolls to hold the specialized pick that comes with Tenney's Accessories.
Meet Outfit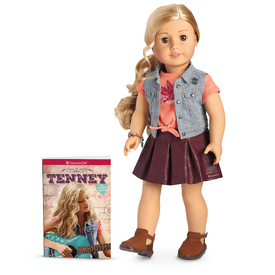 Top
Vest
Skirt
Shoes
Panties
Bracelet
The children's outfit was available:
Tee: $28
Skirt: $38
Vest: $34
Bracelet: $16
See Also