"Tenney" redirects here. For the doll, see Tenney Grant (doll).

Tenney Grant is the first release and one of the two members of the Contemporary Characters line. She was released in 2017.
In July 2018, American Girl announced that they would archive Tenney's entire collection; she, Logan Everett, and their collections were later archived in December 2018. Tenney's books remain available for purchase.
Personality and Facts
Tenney is a twelve year old girl[4] who lives in Nashville, Tennessee, and is an aspiring singer and songwriter.
She is very determined to follow her dreams of becoming a professional musician, and is very sure in herself and doesn't understand why she would ever pretend to be somebody else. She loves all kinds of music, but mostly likes singer-songwriters and country. Before joining a band with Logan, she played guitar and sung for her Father's band, the Tri-Stars.
Tenney loves her parents, though she is upset with them when they show reluctance to let her perform; however, she gets over this once her Mom explains that she'd almost gotten into the industry, but she'd quit when they tried to get her to be somebody she wasn't and was then unable to sign onto any studio. She is also very close with her brother Mason, who will often join take risks with her, like helping her perform and reunite with Logan. Aubrey sometimes annoys her, but Tenney really does love her sister and Aubrey seems to idolize her.
Her best friend is Jaya Mitra, who is an artist and very supportive of Tenney's music career. She also becomes friends with Holliday Hayes, though she at first thought her a bit stuck-up. She became bandmates with Logan Everett, too, and at first they didn't get along; however, they soon overcame their differences and learned how to work together to create music.
Tenney is a great singer, and can also play guitar and banjo. She writes her own songs as well, and is considered to be quite good at it.
Family and Friends
Family
Ray Grant: Father
Georgia Grant: Mother
Mason Grant: Older Brother
Aubrey Grant: Younger Sister
Friends and Other Characters
Logan Everett: Bandmate
Jaya Mitra: Best Friend
Holliday Hayes: Friend
Books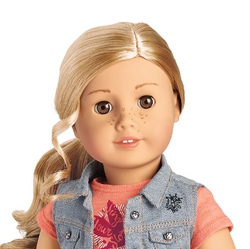 Main article: Tenney Grant (doll)
Skin: Light with freckles
Hair: Golden Blonde
Eyes: Brown
Collection
See: Tenney's Collection
Trivia
It has been suspected--though it will likely never be confirmed by the company--that Tenney Grant was intended to be the 2017 Girl of the Year instead of Gabriela McBride but she was used to launch the contemporary character line after a last-minute change to Gabriela.
Signs include Tenney's collection being available at Kohl's outlets like Lea was before her, a launch within less than two months of Gabriela's release, a collection that included the same style of unique large-ticket item that prior Girl of the Year characters did, sharing the earring set that Gabriela was released with (especially since the Noteworthy Earrings include music notes and a bird, more suited to Tenney's themes), her mini doll being available much earlier than Gabriela's, and a giveaway item in a themed envelope like Lea and Grace. There were also hints of a movie including minor reveals on social media, but the movie production was ended without release.
References