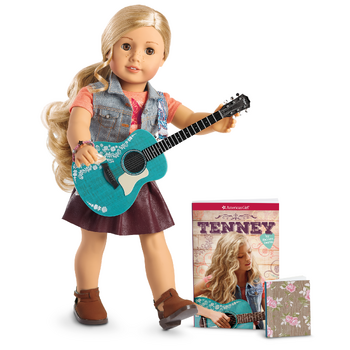 This is a list of all the items that were available for Tenney Grant in her collection before her retirement in 2018.
Doll
Tenney came with a paperback copy of Tenney.
Outfits
Mix and Match Wardrobe
A later addition to Tenney's collection was a mix and match dance themed collection, similar to Modern Mix and Match Sets. The items included are:
Accessories
Books
Activity Books
Tenney's Starter Collection
Tenney did not have a starter collection upon her debut. Customers were offered purchase of the doll, meet book, and Tenney's Accessories for a $5 Discount.
Ear Piercing
Ear piercing and a set of earrings exclusive to Tenney (and originally offered for Gabriela) were available, the Noteworthy Earring Studs:
Silver Songbird studs
Blue flower studs
Music eighth note studs
Debut Giveaway Item
Tenney's giveaway item was a T-shirt in a giveaway envelope.
Bundle
In 2019, Tenney Grant (with first book), Tenney's Accessories, and Tenney's Spotlight Outfit were sold in a Costco bundle pack for $119.99.
See Also
References