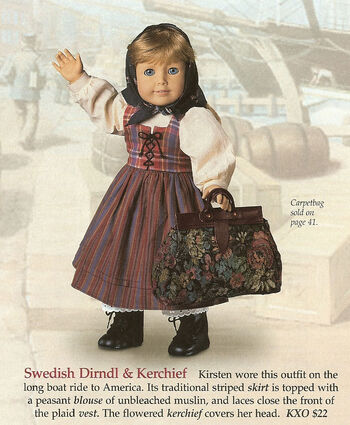 The Swedish Dirndl and Kerchief were introduced to Kirsten's Collection in 1989 and retired in 2002. Retail cost was $22.
The outfit is associated with Meet Kirsten; she wears it for the majority of the story, only changing into her meet outfit after she arrives on the farm in Minnesota.
Blouse
Cream muslin long sleeved blouse. High collar with folded over curved front. Sleeve gathers at the shoulder and cuff; does not have dropped shoulders, as opposed to most of outfits in collection. Closes with velcro at back center.
Skirt
Multicolored calf length striped cotton skirt. Vertical stripes of muted red, mauve, blue, dark grey, and yellows. Growth tuck near skirt hem. Closes with velcro in back center.
Vest
Multicolored plaid bodice vest. Plaid of muted reds, yellows, blues, and whites. Square neckline. Front has attached non-functional shoe-lace style black cord lacing between separate halves; bow tied at top (but can be untied). Closes in back with velcro.
Kerchief
Dark blue floral print triangular cotton kerchief. Print of sprigs of pink and green flowers and white dots. Hemmed around edges.
Trivia
While called a dirndl by American Girl, this is a German word and was unlikely to be used by Swedish people; the Swedish term for the outfit style would have likely been what is now called folkdräkt or distinctly rural folkdress.
While not included in the set, Kirsten is shown wearing the outfit with a plain apron over the skirt and no headscarf.