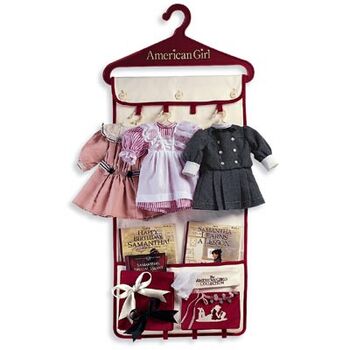 The Stories and Outfits Collections was a set of small collections of outfits and accessories for some of the Historical Characters. They were released in 2003 and retired in 2004. Retail cost for each bundle was $88, which offered a discount from the total cost of the items, and were advertised as an additional way to expand a collection beyond the initial doll and purchase.
General Contents
Each came with the American Girl Caddy, the character's birthday outfit, school outfit, and the 2003 short story outfit. Books included were the school and birthday books and the 2003 short story book.
As Kaya did not have a specified school, birthday, or Short Story outfit (and only one short story at the time), she only received two outfits, but all of her Central Series minus the Meet book. As Felicity Merriman was in semi-retirement and did not get a 2003 short story, she did not receive a collection.
Collections