This is for the 2008 Just Like You Meet Outfit. For the 2014 My American Girl outfit, see Starry Hoodie Outfit.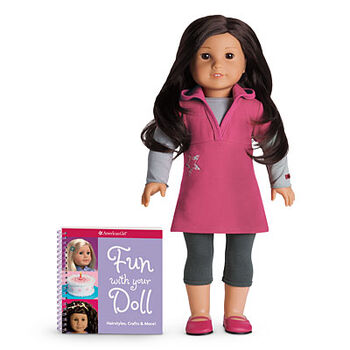 The Star Hoodie Outfit was the eighth meet outfit for the Just Like You dolls, replacing the I Like Your Style Outfit in 2008 and replaced by the Real Me Outfit in 2010.
Star Hoodie Outfit
The outfit could be purchased separately for $24.
Dress
Hooded hot pink dress with mock grey long sleeves and panel (to simulate a shirt underneath). Plaid star logo stitched under on the right side. American Girl tag on left grey sleeve.
Leggings
Below-the-knee dark grey leggings. Elastic waist.
Shoes
Pink ballet flats. Matching elastic strap. Black soles.
Headband
Pink plaid print headband. White circle band in back.
Panties
Pink panties.
Accessories
There was no unique set of accessories. The Phone and Charms Set released earlier in 2008 could be bundled with the doll at purchase.
Book
Fun With Your Doll: a book of crafts and hairstyles for dolls. This came with a newly purchased doll.
A matching children's outfit was available:
Star Hoodie Dress: $48
Leggings: $26
Plaid Headband: $8