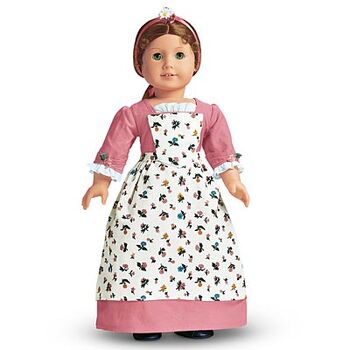 The Spring Gown with Pinner Apron and Pompon (also known as Felicity's Spring Gown) was introduced to Felicity's Collection in 1992 and retired in 2009. It is associated with the book Happy Birthday, Felicity!. Retail cost was $22 and was later increased to $24.
Dress
Pink ankle length cotton dress. 3/4 length sleeves with slight gather at front center. White gathered trim at neckline front and sleeves. Pink satin ribbon flowers at elbows. Velcros up the back. Slits in skirt at sides for access to Felicity's pocket.
Apron
White pinner apron with floral pattern. Pattern has pink and blue flowers with green stems and leaves. Pins to dress.
Pompon Ribbon
Stockings
Pale green knee-length knit stockings. Embroidered with daisy motifs on side.
Pins
Four small straight pins and two safety pins. These come with a card explaining pinner aprons and how to pin the top of the apron to the dress. Later, the straight pins were dulled and no safety pins were included.
The pins are approximately the size of 1/2" sequin pins.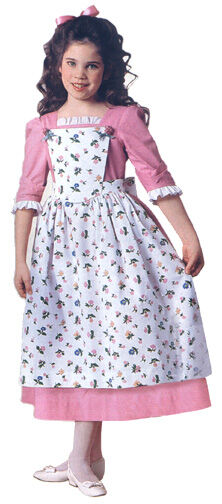 The matching outfit was available as the Spring Gown and Pinner for $98; it was phased out around 2000.