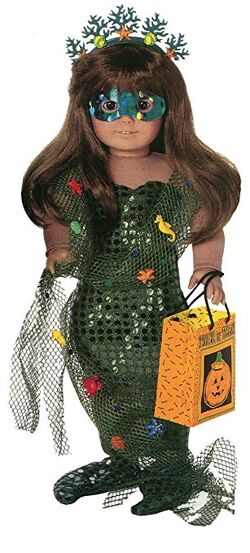 The Sparkling Mermaid outfit is an American Girl of Today outfit released in 1998 and retired in 2000. Retail cost was $24.
Dress
Dark green fitted strapless dress. Large foil "confetti dot" sequins. Curved "sweetheart" neckline. Decorative "tail" fins at front hem of skirt.
Slippers
Dark green slippers. These are intended to be hidden by the dress's tail.
Crown
Dark green plastic "coral" tiara. Five coral branches along headband; alternating 3D orange starfish and yellow seashells (three starfish and two shells) at bases of branches.
Wrap
Long dark green "fishnet" wrap. Plastic charms attached along wrap. Charms come in yellow, orange, red, green, and blue and in shapes of seahorses, starfish, shells, fish, and crabs.
Mask
Shiny dark teal-green mask. Gold and blue flecks within holographic material. Thin elastic to secure mask around head.
Treat Bag
Orange paper bag. Print of small black bats repeats on yellow lining of bag. Black cord handles. Black underlined text "Trick or Treat" above a picture of a jack o lantern on a black background, framed in yellow.
See Also
Community content is available under
CC-BY-SA
unless otherwise noted.