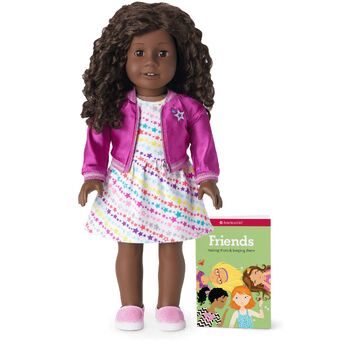 To see the American Girl Outlet Store exclusive item, see Sparkle and Shine Dress.
The Sparkle and Shine Outfit[1] is the thirteenth and current meet outfit for the Truly Me dolls, replacing the Truly Me Outfit in 2020.
The male complement is the Casual and Cool Outfit.
Outfit
Currently this outfit is not available as a separate purchase.
Dress
Cap sleeved knee length knit dress. Pattern of white background with lines of diagonal stars and American Girl Logo stars in alternating sizes and colors: metallic silver, magenta, lime green, light blue, purple, coral, aqua blue, and pink. Bias binding at sleeve caps and neckline (neckline is same fabric as dress, while sleeves are white). American Girl logo tag on lower left skirt hem. Velcro closure in back.
Jacket
Magenta satin raglan-sleeve bomber jacket. Rainbow gradient functional zipper with silver star zipper pull. Left breast pocket has American Girl star logo in light blue with pink, yellow and aqua smaller solid stars. Pink and silver striped ribbing at neckline, cuffs, and waistband.
Shoes
Pink vinyl molded shoes (in similar shape to the Sparkle Sneakers). Multicolored glitter on top part of shoe.
Panties
Light pink panties with white trim.
Book
Copy of the book Friends: Making Them and Keeping Them.
Accessories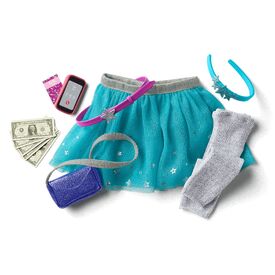 The accessories are available for purchase separately for $30 or bundled with the doll for a discounted price.
Skirt
Bright blue tulle skirt. Silver elastic waistband. Top layer has silver metallic stars and star logos imprinted.
Leggings
Silver knit leggings. Silver threads interwoven in knit. Ribbed cuffs.
Headband
Bright blue plastic headband. Five molded stars with glitter overlay.
Belt
Magenta plastic vinyl belt. Silver star logo buckle.
Purse
Purple rectangular iridescent vinyl flap purse. Velcro closure. Silver woven ribbon strap.
Smartphone
Black molded plastic smartphone. Clear front panel. Back opens to insert screens.
Smartphone Screens
Two dual-sided laminated cardstock smartphone screens. Screens overall simulate the Apple iOS 7 systems.
First pair:

Magenta floral lock screen: 12:15 Friday and patterned background, signal strength and battery at top and Unlock > at bottom
Grey incoming call screen: signal strength, 12:15 and battery at top; Sis and call length of 5:26; Mute, Keypad, and Speaker logos; call in process symbol in red
Second Pair:

Weather screen: Blue background. Displaying Current weather of 77° and partially sunny with five day forecast for Sunday through Thursday
American Girl mobile site: Logo at top, Home and Games at top menu; Left column for Home shows logos for Grace, Gabriela, and Tenney while right column has games for Saige, Lea, and Tenney.
Phone Case
Pink plastic phone case. Molded handle.
Dollars
Five $1 US bills.
The child-sized outfit is available:
Dress: $50
Jacket (reversible): $50
References
↑

This outfit was not given an official name; its name on this wiki is derived from the Sparkle and Shine Accessories it is paired with.