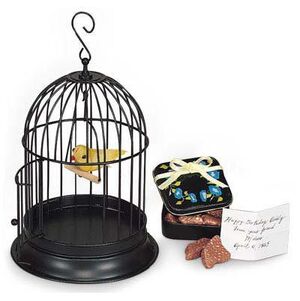 The Songbird and Sweets (also known as Addy's Songbird and Sweets) was introduced to Addy's Collection in 1994 and retired in 2009. It is associated with the book Happy Birthday, Addy! Retail cost was originally $16 and later increased to $18.
Canary and Cage
Black metal caged with working door. Yellow foam and feather canary, Sunny, glued to wooden perch.
Candy Tin
Black metal candy tin with blue flowers and green leaves. Silver lining.
Candy
Pretend benne candy. In 2007, the separate candies were clumped into one piece.
Note
Note from M'dear with text: Happy Birthday Addy From your friend M'dear April 9, 1865. Comes inside the tin.
Ribbon
Yellow ribbon; comes wrapped around the tin.
Trivia