Sombrita the Baby Goat (also known as Josefina's Goat, Sombrita) was introduced to Josefina's Collection in 1998, redesigned in 2017, and retired in 2018. She is associated with the book Happy Birthday, Josefina! Retail cost was $14 and later increased to $16 and $20.
Goat
Hard flocked young goat kid. Plastic resin base with black and white "fur" (imitation fleece); black down back, at tail, on legs, chest, and down back of neck. Black inner ears. Painted nose and mouth. Gold eyes.
Collar
Brown rope collar with silver functional bell.
Second Version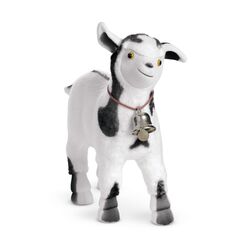 The 2017 redesign has decreased amount of black coloration on the torso and hooves.
Trivia
"Sombrita" is a diminutive in Spanish meaning "little shadow."