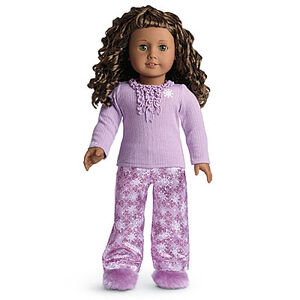 The Snowflake Pajamas are a My American Girl outfit released in 2010 and retired in 2012. Retail cost was $24.
Top
Lavender top with ruffles around the neck.
Pants
Satin lavender pants with elastic waist and white and purple snowflakes.
Slippers
Fuzzy lavender slippers. Clear elastic for ease of play.
Charm

Round "Real" charm.
The girl's outfit was available:
Pajamas: $42
Slippers: $22