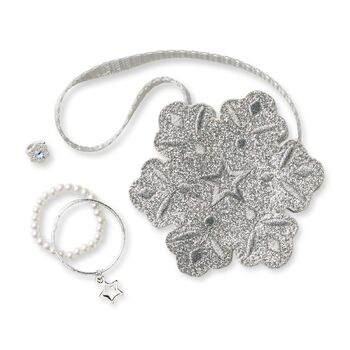 The Snow Pretty Accessories is a Truly Me accessory set released as part of the Snow Fancy Collection. The set was released in 2020 and retired in 2021. Retail cost was $16.
Purse
Silver glittery purse with silver strap. Purse is shaped like a snowflake and has silver embroidery with a silver star in the middle.
Charm Bracelet
Silver charm bracelet with star charm.
Beaded Bracelet
Beaded bracelet with white faux pearls.
Ring
Silver ring with glittery snowflake on it. Blue gem in middle.