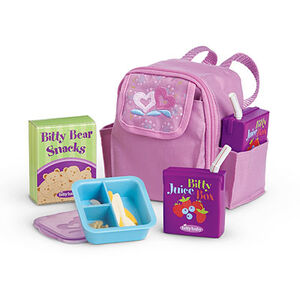 The Sleepover Snack Pack is a Bitty Twin accessory set released in 2009 and retired in 2012. Retail cost was $18.
Backpack
Lavender backpack. Two side pockets and front flapped pocket. Zippered compartment. Embroidered Bitty Twin Logo on flap.
Juice Boxes
Two purple plastic juice boxes. "Bitty Juice Box" and berries on front with Bitty Baby logo. White straws that swivel.
Snack Box
Green snack box. "Bitty Bear Snacks" on front with image of snack crackers in bowl.
Snack Container
Blue snack container with opaque lavender lid. Lid has Bitty Twin Logo. Non removable apple slices, string cheese, and Bitty Bear snack crackers.
See Also