Skylar was one of the 4 main characters of the Hopscotch Hill School line.
Books
Personality
Skylar is described as an energetic kid who has a hard time staying in her seat during class.
Doll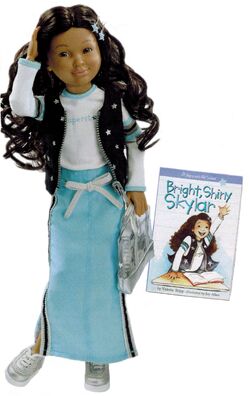 The Skylar doll was released in 2003 and retired in 2006 with the discontinuation of the Hopscotch Hill School line. The doll was available for $48 with Skylar's book.
Skin: Medium
Hair: Wavy, dark brown
Eyes: Brown
Meet Outfit
Skylar's outfit was available separately as Skylar's Starry Outfit. Retail cost was $22.
Skirt
Blue maxi skirt with silver bow at front waist. Silver and black trim up sides of skirt. Slits at ankle.
Tee
Long sleeved white tee. Light blue cuffs and collar. Light blue, gray, and black stripes above elbows. Light blue graphic on front reads "Superstar."
Vest
Reversible vest. Black with silver stars on one side. Opposite side is silver with black stitched accents. Silver zipper.
Underwear
White underwear.
Sneakers
Silver slip-on sneakers. White soles.
Journal
Shiny silver journal. Fits in bag.
Tote
Shiny silver tote.
Bobby Pins
Two silver star shaped bobby pins.