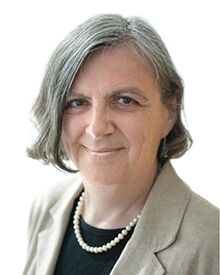 Siobhán Parkinson is an author for the Girls of Many Lands series.
Biography
Parkinson grew up in Galway and Donegal, Ireland, and lived in Dublin as an adult.[1] She received her degree in English literature and German, and her doctorate degree in English literature from Trinity College Dublin.[1] [2] She currently lives in Dublin with her husband.[3] She teaches creative writing at St. Patrick's College, Dublin City University, and translates children's books from German.[4][2]
She was Ireland's first children's laureate from 2010 to 2012.[2]
Parkinson is visually impaired and utilizes audiobooks and magnifying software.[3][4]
American Girl Books
Other Books
Four Kids, Three Cats, Two Cows, One Witch (Maybe)
The Moon King
Sisters... No Way!
Breaking the Wishbon
The Love Bean
Second Fiddle: How to Tell a Blackbird From a Sausage
Something Invisible
Amelia
No Peace for Amelia
Animals Don't Have Ghosts
Cows Are Vegetarians
Blue Like Friday
The Henny Penny Tree
The Leprechaun Who Wished He Wasn't
Dialann Sár-Rúnda Amy Ní Chonchúir
Call of the Whales
"Bruised"
Maitríóisce
All Shining in the Spring: The Story of a Baby Who Died
The Thirteenth Room
Painted Ladies
See also
References
Community content is available under
CC-BY-SA
unless otherwise noted.