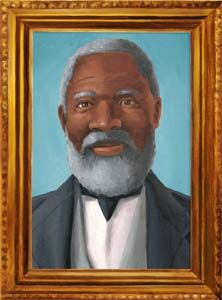 Simon Rey is the grandfather of Cécile Rey.
Facts
Family
Personality
Simon Rey, called Grand-père by Cécile, is the father of Jean-Claude Rey. It is likely Grand-père is a widower, as his wife, who worked as a milliner,[3] is not seen in Cécile's books.
Grand-père originally worked as a sailor before settling in New Orleans. He is a kind man with a talent for storytelling, a talent Cécile shares when she volunteers her time at Holy Trinity Orphanage.
In the Books
Grand-père tells Cécile stories about sailing, which makes Cécile long for adventures of her own. He also sneaks Cécile out of the house to get her favorite sweet, pralines, at the store while her mother is gone for the afternoon. There they encounter hostile white men from outside of New Orleans who treat him as a slave. Cécile and Grand-père stand up to the men. He explains that more outsiders have been entering the city and they dislike the free people of color.
References
↑ Meet Cécile, pg. 25: Cécile's heart began beating very fast. Surely that man didn't think her grandfather, Simon Adolphe Rey [...]
↑ Troubles for Cécile, pg. 55: "Why, this reminds me of the time my captain put me in charge of his pearl," [Grand-père] said. [...] "A pearl, mon père?" Papa seemed distracted as he tore off the end of a baguette. "Mon père" is French for "my father".
↑ American Girl Moves Past Slavery, Introduces New African-American Doll; huffingtonpost.com, referenced September 8, 2011. Denise Lewis Patrick: "I even created a family tree for the Rey family, with details such as what Papa's mother did (she made hats)..."
Community content is available under
CC-BY-SA
unless otherwise noted.