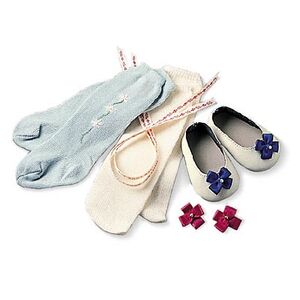 Felicity's Shoes, Socks and Garters were introduced to Felicity's Collection in 1993 and retired in 2008(?). The set was originally a complement to Felicity's Christmas Gown and Stomacher. Retail cost was $12 and was later increased to $14.
Shoes

White shoes with interchangeable snap-on bows. One set of bows are burgundy and match the Rose Garden Gown; the other set are bright blue and match the Christmas Gown and Stomacher. The shoes were originally single-lasted but were later changed to a matched pair of shoes.
White Stockings
White knit stockings. Identical to the ones from Felicity's Meet Outfit.
Blue Stockings
Light blue stockings with daisy embroidery. Identical to the set that comes with the Spring Gown with Pinner Apron and Pompon.
Garters
Woven garters. Identical to the ones that come with Felicity's Meet Accessories.
Community content is available under
CC-BY-SA
unless otherwise noted.