The School Gear II (also known as the Backpack and Supplies) is an American Girl of Today accessory released in 1999 and retired in 2001. Retail cost was $20.
Backpack
Messenger bag backpack with back straps and a purple foam handle. Purple front flap with teal lining that snaps into a plastic buckle. Zipper pouch under flap. All accessories can fit inside.
Binder
Cloth, black binder with velcro strap. American Girl of Today logo pattern in dark purple, light purple, blue, green, yellow, pink, and red. Two vertical pockets, two horizontal pockets, and pencil pocket inside. Vertical pockets can hold the notebook and horizontal pockets can hold the calculator.
Notebook
Black spiral notebook with lined pages. American Girl of Today logo on front cover and white back cover.
Pencil
Thin, wooden pencil, sharpened at one end. "American Girl" trademark near the not sharpened end.
Folder
Green two-pocket folder with "Homework" printed on the front. Pockets can hold the Worksheet pages.
Worksheets
Four school worksheets with print only on the front pages.
Worksheet titles:
Anagram Adventure
Divide and Conquer
Multiplying
Stargazing
Anagram Adventure, Divide and Conquer, and Stargazing are reproductions from CRITICAL THINKING FOR THE MIDDLE AND UPPER GRADES by Laurie Rozakis and copyright 1991 by Scholastic Inc.
Worksheets fit in the pockets of the Folder.
Progress Report
Progress Report includes four pages: one white, one pink, one yellow, and one orange. Colored sheets are carbon paper and tucked inside the folded white sheet. White vertical envelope which Progress Report pages fit in.
Front page of Progress Report has blank lines for:
Effort & Personal Development
Academic Progress for subjects Reading, Language, Spelling, Mathematics, Science, Penmanship, Art, Music, and Physical Education
Backside of Progress Report has blank lines for:
Student name, grade, and teacher
Teacher comments for Quarters 1, 2, 3 and 4
Attendance Record box with Quarters 1, 2, 3, and 4, with Days Present and Days Absent
Front page of vertical envelope has blank lines for:
"Dear Parent/Guardian of"
Parent/Guardian signature, student signature, and comments for Quarters 1, 2, 3, and 4
Calculator
Red calculator with yellow numbers, black functions, and white "ON/C" button.
Textbook
A hardback mathematics textbook that is a reproduction of Exploring Mathematics (copyright Scott, Foresman and Company, 1996).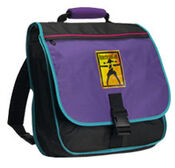 The child-sized backpack was available for $38.
Trivia
The calculator, math book, and pencil were previously used in School Gear I. The math book was reused again for the School Supplies.
See Also
Community content is available under
CC-BY-SA
unless otherwise noted.