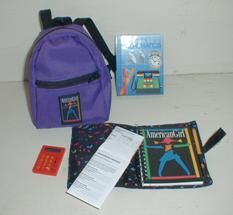 The School Gear I was an American Girl of Today accessory set released in 1995 and retired in 1999. Retail cost was $20.
Backpack
Purple nylon backpack with two black nylon adjustable shoulder straps and a black nylon haul strap. Front pocket features a multi-colored AGOT logo. Both compartments have functional black zippers.
Notebook Holder
Black multi-colored notebook holder with individual pockets on the left for the calculator and report card, and individual pockets on the right for the notebook and pencil.
Notebook
Spiral notebook with black cover and multi-colored AGOT logo; notebook paper is lined.
Pencil
Yellow lead pencil with "American Girl" written in black along one side; no eraser.
Report Card Envelope
One white take-home report card envelope titled, "Progress Report," which contain instructions for parents as follows:
Please read and promptly return the signed envelope to school. You may keep the report for your records. If you have any questions, please contact your child's teacher.
Each quarter requires both a parent and student signature and includes room for any comments.
Report Card
One white, yellow, pink, and yellow/orange multi-copied report card titled "Official Progress Report 19__-19__" that include fill-in-the-blank sections for student information; a quarterly "Attendance Record" tracker; "Teacher Comments" for each quarter; an "Effort & Personal Development" score; and quarterly, scaled (1 through 4) "Academic Progress" grades by school subject.
Calculator
Functional red calculator with digital display, yellow numerals, and black mathematical symbols. Uses an SG8 button cell battery.
Math Book
Abridged mathematical textbook titled, "Exploring Mathematics" by Scott Foresman which teaches basic math principles; provides lessons and problems for learning, along with sections for review and reteaching. Textbook has a blue cover with a graph background; it features images of an alarm clock, two rulers, a white airplane, and a lego telephone on its cover.
Trivia
See Also
Community content is available under
CC-BY-SA
unless otherwise noted.