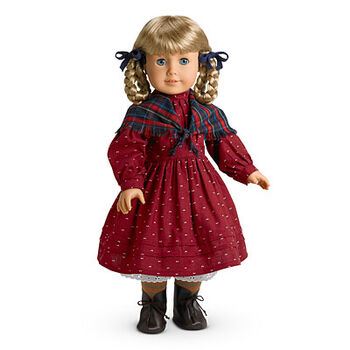 The School Dress with Shawl (also known as "Kirsten's School Outfit") was introduced to Kirsten's Collection in 1986 and retired in 2009 with Kirsten's archival. It is associated with the book Kirsten Learns a Lesson. Retail cost was $20 and later increased to $24.
Dress
Red print long sleeved calf length "prairie" style dress. High banded collar, with bodice gathered at front at collar and waistband on front. Dropped shoulders. Long loosely gathered sleeves gathered to wrist cuffs. Two tucked growth stripes at skirt hem. Velcros at cuffs and up the back.
In 1999, American Girl changed the material of the school dress from a cross print (similar to a division symbol) to a white flower and black dotted print.
Shawl
Blue plaid flannel-style cloth triangular shawl. Reds, whites, and yellows (among other) stripes on dark blue background. Hemmed on upper edge; unhemmed and fringed on lower edges. Is often displayed knotted around doll's shoulders.
Ribbons
Two dark blue 15" length (48cm), 1/4" wide (7.5mm) woven hair ribbons. Fringed edges.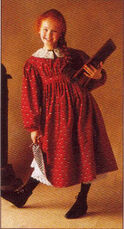 The matching outfit was available as the Prairie School Dress for $80; it was phased out around 2000.
Community content is available under
CC-BY-SA
unless otherwise noted.