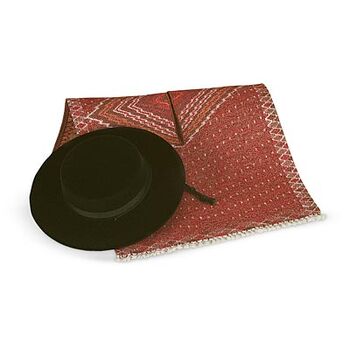 Josefina's Winter Accessories were introduced to Josefina's Collection in 1998 and later combined into Josefina's Winter Accessories in 2005. They are associated with the book Changes for Josefina. Retail cost was $22.
Sarape
Terra cotta woven sarape. Faux wool. All over dot pattern. Multicolored brown, cream, and ochre diamond woven around neck opening. Small white, red, and brown diamond pattern around edge. Slit to place over doll's head.
Hat
Wide-brimmed black felt hat. Black grosgrain ribbon around brim. Black adjustable chin strap with pony bead.