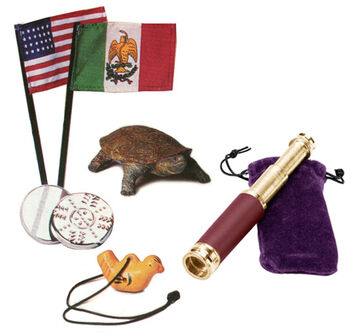 The Santa Fe Summer Fun set was introduced to Josefina's Collection in 1998 and retired in 2002. It was associated to the story Josefina Saves The Day. Retail cost was $18.
Bird Whistle
Functional "clay" bird whistle on a black cord.
A second version was released with Josefina's Herb-Gathering Outfit.
Tortoise
Mexican Flag
The historically recent Mexican Flag. This is the Second National flag, associated with the First Mexican Republic which was adopted in 1823.
American Flag
The historically-recent United States Flag. In 1825 the most recent state added to the union had been Missouri in 1822, so the flag had twenty-four stars.
Mirror
Silver molded hand mirror.
Telescope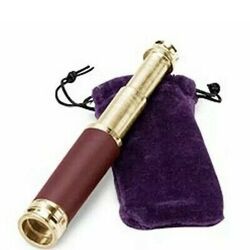 Functional gold telescope with brown leather trim.
After the retirement of the full set, a revised telescope sold separately as Josefina's Telescope for $10, which was later retired in 2007. The newer telescope did not extend as far and had different stitching on the leather.
Telescope Bag
Purple velvet drawstring bag.
This was sold with the revised telescope.
Community content is available under
CC-BY-SA
unless otherwise noted.