Jurassic World: Dominion Dominates Fandom Wikis - The Loop
Play Sound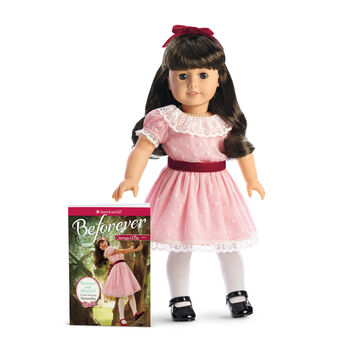 The Samantha Parkington doll was released in 1986, along with Kirsten Larson and Molly McIntire. They were American Girl's first three Historical Characters. Samantha was officially archived in May 2009 after selling out Feb 3, 2009, but was rereleased in 2014 with the launch of BeForever; furthermore, a Special Edition version was released for the 35th anniversary in 2021.
Samantha Doll
Skin: Light
Hair: Dark Brown, wavy, bangs.
Her hair is pulled into a half-ponytail in the back.
Samantha has decal brown eyes, which are different from the standard brown on most dolls. The only other doll that these have been used on is Ivy Ling.
Meet Outfit
Classic Meet Outfit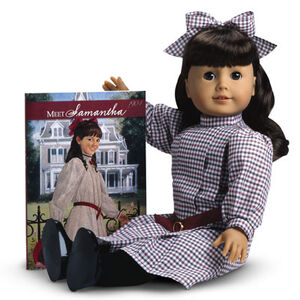 Samantha's Classic meet outfit is an example of what girls her age and class would have worn during the Edwardian era. However, until around 1998, the only illustration of it was on the cover of Meet Samantha.
Dress
Checked taffeta drop waisted dress. Cloth pattern of small checked burgundy, brown, and ivory. High collar, dropped waist, long slightly gathered sleeves, and pleated front (the back is plain). Burgundy satin "waist" sash. Velcros up the back and at wrist cuffs.
Bloomers
White cotton bloomer-style underpants. Elastic at waist and bottom cuffs.
Stockings
Long black ribbed tights. The official descriptions called them "stockings"; however these these are full tights which, on a dressed doll, are placed under the bloomers.
Authentic stockings of the time and accompanying garters are more similar to what are included in the Lacy Whites.
Shoes
Black plastic slip-on Mary Jane style shoes. The shoes are identical to Molly's.
In the books, Samantha is shown with high button black boots most of the time; Mary Janes existed, but were just starting to emerge as a style of children's shoe. The shoe style was likely chosen to allow only one style needed to be manufactured for both dolls.
Hair Bow
Wide taffeta bow made from the same print as the dress.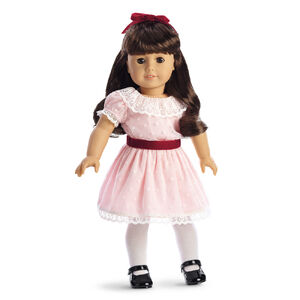 The BeForever Outfit for Samantha was available alone for $36. It was released in 2014 and retired as a separately available purchase in 2018.
Dress
Bloomers
Stockings
Shoes
Hairbow
Meet Accessories
Classic Accessories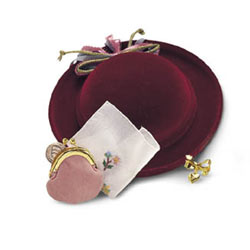 Hat
Burgundy faux-velvet hat with rose, dove grey, and gold colored ribbons tied into bows and allowed to dangle in the back. Samantha is generally not shown wearing the hat in illustrations and is instead carrying it in her hand; this was also true for many of the catalogs. Older hats have a rose ribbon also around the band.
Locket Brooch
A golden bow-shaped brooch with a heart-shaped locket. It comes with pictures of her mother and father to place inside and is pinned to the front of her dress.
Purse
A rose velvet clutch purse with a golden clasp and chain that slips over her wrist.
Indian Head Penny
A shiny reproduction Indian head penny, a coin used during Samantha's time. Samantha's coin was an authentic Indianhead penny until it was replaced with a reproduction penny in 1994.
Handkerchief
A white lace-trimmed handkerchief with embroidered flowers.
The 1986 version had two pink and blue centered flowers with three diagonal yellow flowers. In 1991 this was changed to pink flowers in a a corner design with additional decorative swirls.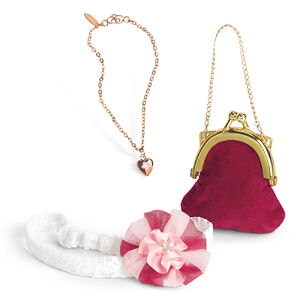 Headband
Locket
Purse
35th Anniversary Edition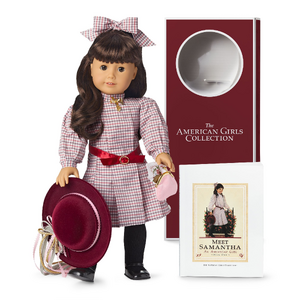 For American Girl's 35th Anniversary, Samantha Parkington was rereleased as a limited edition bundle. The bundle includes the doll, meet accessories, the first edition parchment style of Meet Samantha with illustrations by Nancy Niles, and an older-style box (modified with visibility window) for a total cost of $150. This bundle sold out in November 2021.
Unlike standard dolls sold at this time, Samantha has neck strings. Notably, the accessories are modified: the purse is a lighter pink, the hat has more ribbons and the return of the ribbon band, and the handkerchief is more elaborately embroidered.
One of a Kind Edition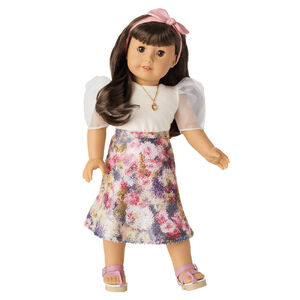 A one-of a kind Samantha, designed by Carly Cushie, was auctioned from September 23 to 26th, with all proceeds donated to Girls Who Code. The auction initial starting price was $300 and final auction price was $2,513.91.
The doll was dressed in an ivory stretch jersey blouse (with sheer organza puff sleeves), a floral printed sequin bias cut skirt, a pink headband, her BeForever locket, and the shoes from Kira's Casual Outfit.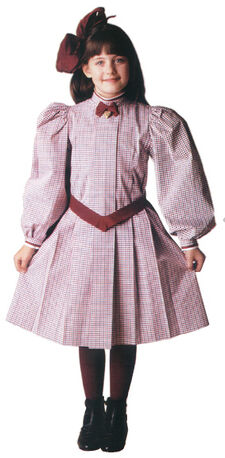 A children's full outfit was available:
Afternoon Tea Dress: $80. A pattern was also available.
High Button Boots (black only): $55 (later $68).[1] These zipped up the inner side.
Ribbed Tights: $8 each. Came in Black, Burgundy, Ivory, Red, and White.[2]
French Hairbows (Burgundy): $15
Samantha's Keepsake Locket: $14 (later $16 and $20). Unlike the doll's, it was on a chain similar to Molly's Accessories, but was golden brass like Samantha's brooch.
These were all phased out around the year 2000.
An outfit inspired by Samantha's BeForever Meet Outfit was available:
Pink Polka-Dot Dress: $58
Rosy Headband: $12
A Samantha mini doll has been available since the debut of mini dolls in 1995. There are three versions with her meet outfit: the Pleasant Company mini doll, the Mattel mini doll, and the BeForever mini doll.
White bodied Samantha dolls have a white muslin cloth body; both Mattel and Pre-Mattel Samanthas have matching cloth bodies.
Most of the White Body Samanthas have lighter brown and curlier hair; Some have darker brown hair that is long. Mattel dolls have darker hair that is more wavy than curly and a little shorter. PM dolls transition between the two.
Older versions of Samantha (and the 35th anniversary edition) have straight-line eyebrows. The BeForever Samantha's eyebrows are feathered.
Trivia
The pattern on Samantha's original locket (prior to BeForever) was identical to the pattern on Molly's, but a golden brooch while Molly's locket is a silver necklace.
References
↑

These were shown with the majority of children's sized clothes in the collection.

↑ These were also advertised for children's matching Molly outfits, particularly the School Jumper.