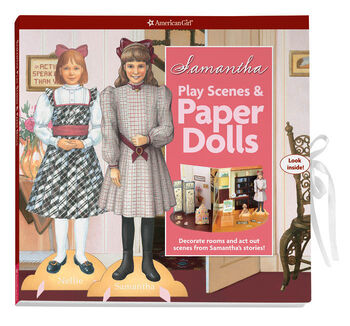 Samantha's Play Scenes and Paper Dolls is a set of paper dolls focusing on Samantha Parkington. It was released in 2010.
Dolls
Storage
Generic Fancy Trunk Drawers
Outfits and Accessories Represented
Samantha
Nellie
Accessories
Gingerbread Man
Tea Tray with cookies
Doll
Tea Cup and Saucer
Trinket box
Plants
Doll at play table with dishes
Chair
Color Scale Chart
US Map [2]
Shell
Bug net and basket
Butterfly display
Globe lamp
American Flag with Apple
Portrait of Theodore Roosevelt
Bug display
Pencil cup and inkwell
Goldfish in bowl
Open book
Framed photographs
Roses in vase
Two Hatboxes
Chinese Screen
Furniture
Easel with painting
Phonograph
Dollhouse
Paint set
Music Stand with Violin
Globe
Background Scenes
See Also
References
↑ The map is modern and, while Hawaii is not listed, still inaccurate to the time. It lists Oklahoma, Arizona, New Mexico and Alaska as states when they had not yet been made states.